Wedding DJ Research Tips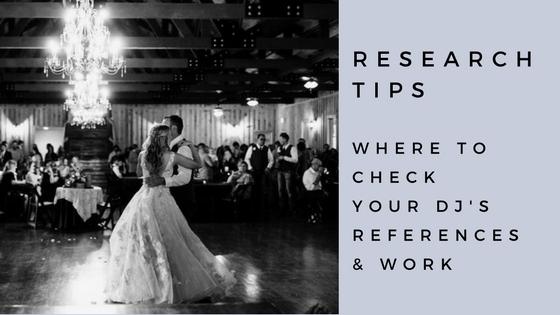 Choosing the perfect wedding DJ is no easy feat. There are so many options and research is key. Here are 4 places to look AFTER a visit to the site of your potential wedding DJ.
Reviews
Of course, falling in love with a wedding dj is one thing, but it can't be stressed enough how important a wedding's personality is as well. Reading reviews written by other couples will give you insight into both a wedding DJ's work and style. At DJ Connection we pair our wedding DJ to each individual couple's style. If you want someone with high energy who is going to get on the dance floor and teach line dances, we have that! If you want someone who will simply make announcements and play background music, we have that, too.

Instagram and Other Social Media
Start following wedding djs whose work interests you on social media—including but not limited to: Facebook and Instagram. You may be able to see their work in real time, and get a "behind the curtain" look at how their business is ran, as well.
Many wedding DJs have blogs to showcase their work and give you some insight into wedding planning. Often, you'll be able to get a feel of what kind of company they are which can help you decide if you're a fan of their style.
A wedding dj's website isn't always going to provide you with the full picture of their work. Seeing videos of their performances can seal the deal. DJ Connection has a great video on YouTube that encompasses several types of events - from proms to weddings - so you can see the variation. Bonus: see our interactive lighting at work, too!
We are happy to share these tips and would love to provide any of the above to help you make the best decision when it comes to choosing the right wedding dj for your big day.


See DJ Connection's Wedding DJ services